Odds News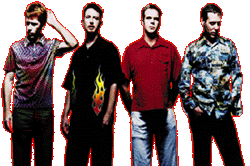 'What are ya looking at, Doug?'

This is the place to be for the latest, greatest news on Odds and related topics. This is where you'll find info like tour dates, tour cancellations, magazine articles on your favourite people and anything else that I can find pertaining to Odds that I find interesting! If you have something that I haven't put here that needs to be here, give me a shout!
---
1. Odds' soundmen and wonder wizards Byron Lonneberg and Andrew White are featured in this month's (Vol. XIX, No. 5) Canadian Musician. They talked to the guys (and a couple of other sound people from other bands, like treblecharger) about building the ideal live sound system. There's also a picure of Byron mixing the Odds live on CFNY in 1994, a picture of Andrew and an interview on sound quality with Steven. And this picture of the guys. Cost is $3.50 (Canadian).
---