Odds Stories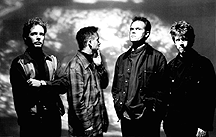 'You did what Doug?!?!'
This section is dedicated to any funny stories that I, personally, have experienced with or about Odds and any stories that you can send to me. Any stories about meeting them, something funny that happened at a concert... even funny stories that an Odd have told you are welcome!
---
At their September 12, 1997 show in Ottawa at The Congress Centre, I ended up right in front of Craig's mike. When he came out with the others, he went right to his mike and started making weird grunting noises for a few minutes. Finally, Doug came up to him and told him to stop. He turned around and told him he was just trying to entertain the crowd!!
---
On March 4, 1997, when Odds were in Ottawa for a show at Barrymore's and an in-store autograph session at the HMV at Rideau Centre, I went to see them at HMV. They did a small little performance of 5 songs (Eat My Brain, Satisfied, Someone Who's Cool, Make You Mad & Truth Untold) and then signed lots of autographs. When it was finally my turn, I showed them the picture I had drew of them and they all signed it happily. Steven, who got to it first, put in thought bubbles for everyone. If you'd like to see his creative juices at work, or would like to see what their autographs are like if you don't have them, check it out here!
---
At the same autograph signing, I had, of course, brought my camera. When I got up to the front of the line for autographs, I wanted to get a nice group photo of all 4 Odds... So I asked to take a picture and they said sure. But Craig was busy signing an autograph, so he didn't get in the picture. After I had taken it, Steven said, "Ya know, that's the kind of picture that would break up a band." Then Pat added in, "Yeah. I can just see the headline tomorrow, 'Odds Break Up Over Fan's Photo'". They all laughed and then I moved on and took a picture of Craig by himself to make it fair. No one was left with hard feelings!