Odds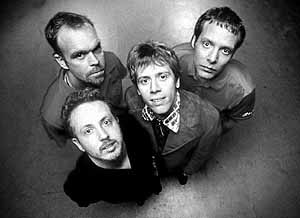 'What are you doing here?'
Welcome to the only Odds dedication page you'll ever need. Okay, so it's not that great of a page, but it is pretty cool. As you probably already know, Odds are a kickin' band originally from Vancouver and who still reside there today. They have enjoyed great success across Canada and even the United States. Before the band got a record deal, they were known as The Dawn Patrol. They played small bars in Vancouver and the surrounding areas and all of them carried pseudonyms to... well, to retain their anonymity, I guess! Back in those days, the band consisted of:
News Flash: Some sad news on the Odds front, as of not too long ago, the great Craig Northey has resigned from the band. Along with the sadness of losing him, there is gladness. He'll be releasing a solo project and also promises a "best of" type compilation with b-sides and some unreleased stuff. We can all look forward to that much!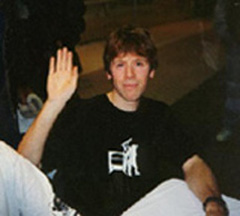 Craig Northey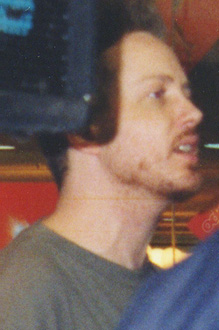 Steven Drake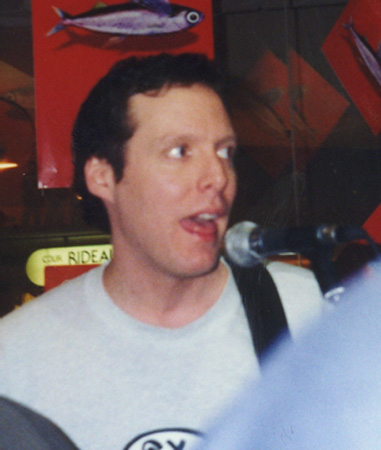 Doug Elliott

Craig, Doug, Paul and Steven played together for the first time in October of 1987. Their debut gig was at The Savoy Theater in Vancouver on November 25th, 1987. The current incarnation of the band is basically the same, except for the fact that Paul Brennan has been replaced by the one and only...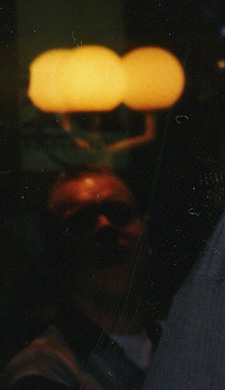 Pat Steward
Odds have released 4 albums in their lifetime:
Neopolitan
Bedbugs
Good Weird Feeling
Nest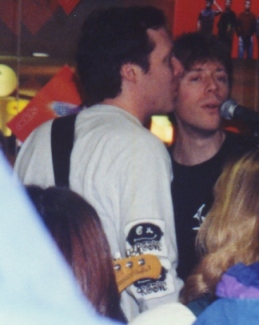 Craig and Doug having a blast at HMV in Rideau Centre
If you have never seen Odds live, you are missing out on a lot. They are one of the greatest live bands around today. They have unbelievable chemistry on stage. If you're lucky, you might get to see some of their crazier antics, like licking each others' faces, biting each other, playing each others' guitars/basses/drums or some other fun spectacle. One thing you can be sure never to see at an Odds show is Craig, Steven, Doug and Pat just standing there and singing! At all the Odds concerts I've been to, I have to say I've never been disappointed in anyway. Whether you like their music or not (I don't understand why anyone wouldn't!), you are always guaranteed a great show. So keep your eyes peeled for the next time their visiting your town. They tour often and crisscross the whole country... everywhere from their hometown of Vancouver all the way out to St. John's! Enjoy the show!
Odds, as a name, came from a phrase that Paul once said to Steven: "What are the Odds of us ever escaping bull**** gigs like this?". It just came about after that!
My URL: http://come.to/example




I got it for free at http://come.to